ISOMEC® is a software used for making automatic Piping Isometric drawings, Piping Spool drawings, the Bill of materials and reporting from the outline of isometric. This specific application for Piping Engineering takes care of the complete Isometric drawing and related documents and deliverable. The Software is automated, rule-based and specification driven. The dimensions and annotations are supported by all piping components with an objective to maximize automation and thereby improving productivity.
ISOMEC® is customizable to specific needs.
ISOMEC® can achieve maximum standardization, resulting in greater productivity and profitability.
Benefits of using ISOMEC®:
Cost saving as one doesn't require CAD for implementing ISOMEC®.
This software is specification driven. Just a rough sketch is required to turn the work that normally takes hours into minutes.
75% of the time can be saved with respect to manual CAD drafting & calculating the Material.
Can be configured for various industrial requirements by customizing the software using AUTOSYM & AUTOSPEC.
Revision management is inbuilt in the software. The program automatically marks clouds and reports the relevant details for any addition, deletion or modification.
Salient Features :
The isometric pipe drawing software ISOMEC® package when combined with Specification Generation AUTOSPEC, Piping Material Specification and Symbol Generator turns into a unique, independent world-class system, facilitating automated isometrics.
| | |
| --- | --- |
| CAD system is not required | Reduction in project duration time |
| Rule-based piping solutions / Specification-driven components | Creation of user-defined symbol |
| Automatic generation of isometric drawing with BOM | Data rich piping standard database as per ANSI, DIN, BIS, IS etc |
| Automatic summary reports for BOM / MTO | Automatic bolting as per bolt standard |
| Automatic Annotations (Annotation Generator) | Automatic Gasket as per standard |
| | Automatic Flanges as per the rules |
| | Insulation and Tracing are supported |
| Automatic change in the specification with all associated components. Within a minute one can make desired specification | |
| Powerful editing features like a change in size, components, change in piping routine, an intelligent component in order to change as per the modification | Single interface for viewing and editing all project line data |
| Provision of support making desired labeling | Accessibility of Data Assets by all in the organization |
| Messaging, attachment, instrumentation marking provision | Flexibility for a designer to add or amend or alter with ease |
| Document management of projects including Revision Management | Excellent training & service support |
| Isometric with Bill of Material in DWG, DXF, DGN, PDF formats | User can create the assemblies like Drain, Vent etc. |

INPUT
Handmade Piping Isometric or Piping General Arrangement Drawing.
OUTPUT
Piping Isometric with Bill Of Material in DWG, DXF, DGN, PDF formats.
Bill Of Material in Excel, text, CSV formats.
ISOMEC® Unique Feature :
The unique feature of ISOMEC® is REVISION MANAGEMENT with respect to all the graphics, annotations, dimensions, etc. After the isometric drawing is issued for construction when any revision/modifications are required, the program is capable of taking care of all the existing graphics, annotations and MTO. It generates revised data and graphics in a distinct manner for clear communication.
AUTOSPEC ( Piping Material Specification ) :
The module for creating Piping Material Specification provides Piping Component Information along with the existing database.
PMS – the definition of dictionaries includes components, materials, design, standards, weight and bolts dimensions, component selection rules as well as piping classes, intersection and assembly with automatic creation of codes for each project component.
AUTOSPEC – is a user-friendly, single-screen interface for creation of required specification with ease not necessitating high degree of skills.
This module is capable of generating detailed reports and also different kinds of summary from the feedback system to management.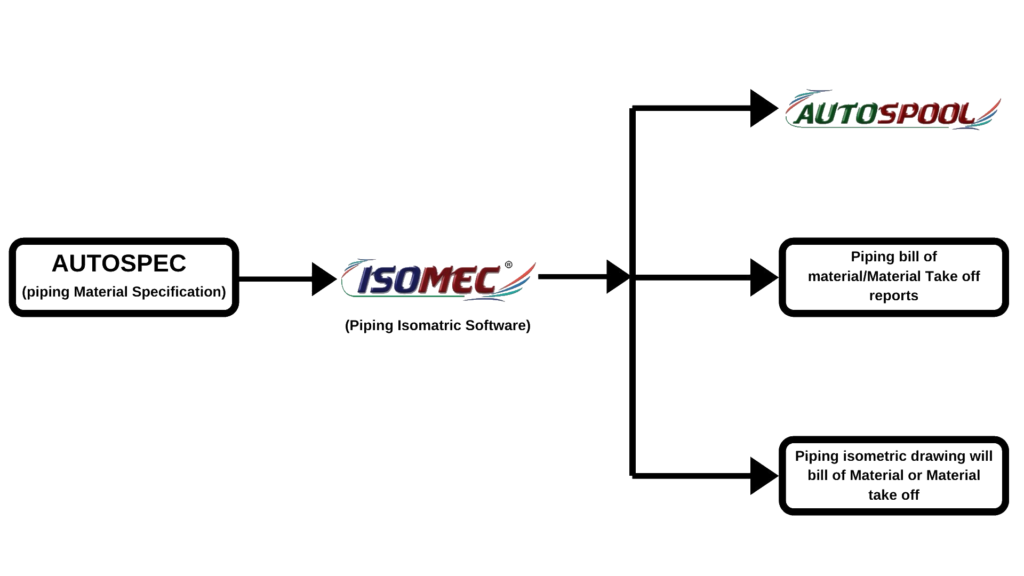 Piping Engineer's dream come true :
The plant Piping Engineers can now rejoice. Eureka D-soft brings you ISOMEC, a comprehensive piping design software solution ideal for today's modern work environment. ISOMEC helps you save precious time and offers huge cost savings. Where it would previously take 10 hours to design a piping isometric drawing, with ISOMEC, the same work can be done in minutes. What's more, it can be customized completely and is in short, a boon for the piping engineering industry.
Integration with the third party software:
The output from ISOMEC can be sent to a third party software for further communication to a CMM machine or to a house customized software. We are open for creating integration with clients existing software. One can also inbuilt facility of ISOMEC in customer's specific application. Kindly get back to us for more information on the same.
Training & Customer support :
We provide training & customer support on and off site for successful implementation of the software. This is to ensure seamless integration with the clients work process.
Minimum recommended hardware & software Machine :
I-3 / I-5 or latest with 2 GB RAM. Operating System WIN 7 / WIN 8 or latest.