SPOOLMAN / ERMAN is a project control solution for planning, management of material & construction activities for spool fabrication & erection at shop/site. This software is useful for effective matching front analysis, work allocation, material allocation, piping material control and tracking of spools & erection items. The program is valuable for an efficient macro and micro level construction planning beginning with issuing materials, fabrication/erection of spools, quality inspection& testing, painting till the generation of line history sheets, transportation of finished spools to lay-down for storage, dispatch to site for erection, mechanical clearance, insulation, final clearance of loops & systems.
The combined solution delivers the following functionality: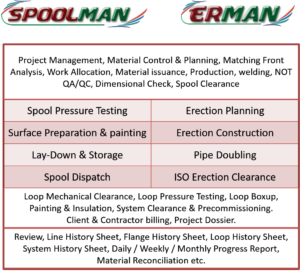 SPOOLMAN / ERMAN is a software for Piping Fabrication and Erection Management and Control :
SPOOLMAN / ERMAN is used for pipe spool fabrication and construction planning, production, welding, NDT, piping progress tracking, erection, hydro-test, painting etc. This program can facilitate complete automation of production process by updating the live status of activities like Fit-up, welding, NDT etc. through Barcode, Scanner and WIFI/Blue tooth. All reports related to billing and commercials can be generated from the software resulting in a single point solution for planning, piping fabrication, and erection work. This program automates activity based fabrication /erection, inspection, installation, testing, pre-commissioning, reporting, checklist generation, along with monitoring of projects, status review, priority updating, and revision management.
Progress Update in 3D Model :
With the integration of AUTOSPOOL the actual progress of the fabrication, material availability, erection can be shown in the 3D model. The program generates 3D dwg file containing a 3D model of the piping with all associated progress status. This can be further viewed by any third party tool for review. Review of construction progress in 3D model with detailed progress attributes at system/ loop / line / spool / joints / components level aids in better monitoring & control.
SPOOLMAN / ERMAN features :
Construction Release :
This program aids in pre-defining various unique phases which a specific spool/line has to undergo in the Fabrication / Erection cycle based on the requirement of project NDT plan, Piping Material Specification, Fluid Code / Service, Paint Specification, AG/UG category etc.
Material Control :
This program controls material in every stage of the work by checking the material availability for Fabrication / Erection of the spool / line, assigning of spool/lines based on the workload available with the sub-contractor, assigning and issuing material to the sub-contractor for the assigned spool / lines, handing over the drawings for fabrication / erection after ensuring material is ready with the sub-contractor for fabrication/erection.
Matching Front Analysis:
Fabrication Front analysis: The Software performs Front analysis for fabrication based on available material at store and material required to fabricate individual spools. The result of front analysis highlights the list of lines, spools & joints which can be fabricated. The results are also indicated through color coding(Green -Completely possible, Yellow -Partially possible, Red – Not possible).
Material constraint list (material required in store to completely fabricate all the partial possible & not possible spools) is generated automatically.
List of balance material available in stores, effective scope & non-effective scope can be generated. Reports of completely possible spools, partially possible spools, not possible spools is generated with spool wise Inch Dia possible for fabrication.
Erection Front analysis:
The Software performs Front analysis for erection based on the availability of erection material at the store and fabricated spools. The associated equipment erection, technical structure installation can also be considered for the erection front analysis.
The result of the analysis is the list of completely possible lines for erection, partially possible lines for erection & not possible lines for erection with possible Inch Meter. Material constraint list for erection item and the status of constraint spools list is automatically generated for monitoring.
Construction Planning :
This program helps the planning engineer to analyze the work front availability, assign spool/lines to the sub-contractor based on the subcontractor's scope of work (like Units / Area / AG / UG piping, Fabrication / Erection, Service etc.) in the project & the current workload available. The work assigned to the sub-contractors are documented with transmittal number & scope in Inch Dia / Inch Meter / Weight allocated against the same.
Front Release :
The Front release assures the materials & corresponding drawings are released to the subcontractors with recorded documents to ensure the released front is available for fabrication/erection.
Production :
Store material released to fabrication shop is inspected and PMI (positive material identification) report is created before utilizing the material for production Fit-up. Fit-up report with parameters like root gap, bevel angle, heat numbers, alignment etc. is recorded. The production activity can be customized & automated through Barcode & Scanning technology with live / batch progress update through WIFI/data transfer.
Welding Management
Welding :
The program facilitates easy execution of welding by capturing various welding parameters using WIFI/internet through mobile/ tablet/computer. The various welding parameters are captured and not limited to: WPS numbers, welding process, welder number, welding completion/inspection date, weld visual, welding pre-heating, welding post heating and weld PMI report & date.
Automatic updating of WPS number based on specification / thickness, automatic selection of welding process based on WPS number & joint thickness can be configured.Spool-wise VT(Visual Test) report, Spool-wise weld-map report containing consumable information(electrode / filler wire),consumable batch, consumable thickness etc. are recorded for final documentation.
Welding Management
NDT :
The program performs Lot wise NDT clearance by grouping joints from spools/lines based on parameters like NDT inspection percentage, piping material specification, WPS number, welder number, weld type etc. The representative welds from the lot are offered for inspection to meet the percentage coverage (Line-wise, welder-wise, wps number wise coverage etc.) which are documented as a justification for Quality Acceptance. This will facilitate covering of statutory NDT requirement as per project specification and approved NDT plan.
PWHT :
Stress relieving, Hardness inspection based on base material & joint thickness is performed as per code requirement, project specification and the reports are documented for quality acceptance.
SPOOL CLEARANCE :
Dimensional check, Spool clearance, Spools pressure test, Spool surface preparation & painting is performed as per requirement and spools are released for storage in the laydown area.
Laydown & Dispatch
Laydown :
The transportation of spools to the laydown area and the storage of fabricated spools is controlled by the program by managing the information of Laydown location, Storage grid number, Truck number, Gate pass number, Transportation voucher, GRN (Goods Receipt Note) etc.
Dispatch :
This program helps in the timely dispatch of the finished spools to the erection site by instantly retrieving the grid location of stored spools as per the site requirement. The vehicle number & site/unit location / of the transferred spools are recorded through delivery voucher reference as the documentation proof.
Erection
Modulations as per engineering and construction work packages :
The program facilitates modulations as per construction work packages for progress monitoring & control.
Iso Erection Clearance :
This Program collectively updates the erection status of the line by monitoring the various line erection sub-activities like Spool erection, Valve erection, Support erection, NDT clearance of field welds, Flange alignment checks etc. The software has a provision to prioritize nozzle connected spools, equipment connected lines, Tie-in isometrics for erection as per construction requirement.
Loop Mechanical Clearance / Pressure Testing :
The program enables one to plan/check beforehand the availability and status of the spools/line erection. A constraint list to complete the Loop mechanical clearance is generated by the program which can be used as a ready reference, for further follow-up & necessary actions. Pressure Test(Hydro / Pneumatic) approval & reinstatement check-lists are documented.
Protective coating, Painting & Insulation :
Paint system based on base material, design temperature, operating temperature range & insulation requirement is considered for identification of different coats(primer/intermediate / finish), a number of coats, thickness of coat(dry film thickness) as per project specification / line designation table.
Measurement of painting is based on size wise running meter, surface area in the square meter as per project specifications like
Paint system, size, running lengths
Paint system & surface area of the painting
Paint system & volume of painting etc. Measurement of insulation based on different criteria like Size, insulation type, thickness and running lengths (running lengths is based on length of the pipe + fittings) Size, count of Valve boxes, Flange boxes, bling flanges etc. Provision of measurement in surface area & insulation volume can also be customized. Internal cement lining, epoxy coating, external wrapping & coating, external cement lining with relevant measurement on basis of surface area/coating volume is automated as per project requirement.
Loop Flushing / Box-up :
This program guides the user in clearing flushing & box up with the user-defined checkpoints & interactive monitoring. The program compiles pending punch points & allows closing of punch points generated at different stages of erection by various disciplines like Construction / Operations / Quality / Maintenance / Painting etc.
System clearance & Pre-commissioning :
Systems are defined & grouped with multiple Loops / Test-packs, lines, spools based on the service, operating conditions, criticality as per project considerations.
The status of the system is monitored at Loop level, Line level, Spool level, Joint level & Component level. Status of system w.r.t material availability, material constraint, fabrication progress, erection progress & constraints is monitored effectively.
With the integration of AUTOSPOOL, the program generates 3D dwg file containing a 3D model of the piping. This is used for detailed graphical monitoring of the system progress completion with breakup details at Loop / Line / Spool / Joint level. Material tractability data like heat number, batch number, vendor number, PO number, invoice number, date of receipt, issuance, consumption etc. can be customized & viewed in the 3D model against each fabricated/erected component.
The system pre-commissioning check-list & clearance including internal cleaning(soft board pressure blasting), service fluid flushing, inert gas purging, system sealing etc. as per project requirement can be reported, recorded & documented.
Project Dossier / Closure :
This program extracts all the necessary reports for the final dossier preparation & submission to the client. Activity wise data is stored in an organized manner by the program which helps in achieving the desired objective of the final documentation.
Revision Management :
Revision Management module takes care of every revision in the line and spool. The program compares the joint and component property of latest revision Line / Spool with the old revision progress stepwise (Material issuance, Fit up, Weld visual, QA/QC) and acts for Match, Modify, New, Delete of the Joint / Component depending on the comparison results of the old revision with the new revision. Multiple revisions can be effectively handled according to Materials, Fit Up, Welding, NDT, PWHT, Spool Pressure test, Spool Painting, Laydown, Dispatch etc.
Store :
With this program, one can upload DMR (Daily Material Receipt) or MRN (Material Receipt Note) and Item Codes according to the material received at site. One can use this module for making the entry of all the material received at the store/ site. This module is integrated with other modules of EPCPROMAN like MATCONTRK / STOREMAN. It can also be customized for integration with other material management system.
Generate QA / QC Test Reports:
SPOOLMAN / ERMAN is an important aid in generating QA/QC test reports like :
Fit-up inspection
Weld visual inspection
Radiography inspection / interpretation
Ultrasonic inspection
Dye penetration inspection
Magnetic particle inspection
PWHT inspection
Spool-wise VT report
Spool-wise Weld map report
Management level review reports
Construction manager/project manager level review reports
Area coordinator level review reports
Supervisor level review reports
Hardness inspection
Spool pressure test
Surface Preparation & painting inspection
Penalty joints offering
Reinforcement pad pneumatic
Gas Pressure test inspection
Positive material identification
Line history sheet
Flange History sheet Spool Erection report
Valve Erection report
Support Erection report
Fasteners & gaskets installation reports
Tagged Item installation reports
Loop testing & clearance reports
Advantages of SPOOLMAN :
Some of the numerous Advantages of SPOOLMAN / ERMAN are :
Optimum utilization of Piping material
Advance notification of the material requirements
Progress monitoring at every stage of the planned scope vs. actual scope
Material tractability information in store with vendors etc.
Acquiring information on each joint, line progress, erection status of each piping spool and component
Welder management including qualification, quality check, and penalty clauses etc.
Actual material allocation virtually and practical matching front availability analysis
Virtual planning of spool possibility and optimization of material allocation
Enables analysis of the Effectiveness / Non-Effectiveness of each joint
Creation of deliverable based on the actual possibility
Automated & interactive issue and confirmation of material issue voucher
One point information for all the piping material and construction activities
System, Sub-system, Loops, Test-packs wise progress reports, joint level reporting
Management Information system (MIS) reports representing progress in overall percentage based on activity wise weightage & ROC (rule of credit)
SPOOLMAN AUTOMATION features:
Billing and commercial invoice generation facility :
The program has facilities for generating billing to the contractor or the client in a systematized manner. Billing is generated with related abstract and measurement sheets. The automatic generation of billing is based on the approved procedures, schedule of rates etc. Monthly billing is generated based on the automatic/interactive progress of activities using Barcode automation.
Automation in activity updating and Spool tracking: Using BARCODE:
All modules have a facility to generate BARCODE (1D/2D) built in the system which can be directly printed using the BARCODE printer *.
The actual progress/work done is updated using Barcode & Scanning technology with live / batch progress update through WIFI/data transfer at all the levels of fabrication, erection activities like Fit-up, welding, NDT etc.
Spool tracking is achieved using a BARCODE application available on mobile devices capturing the information of spool and related location information for easy search. Mobile apps are used for live updating, working on Windows and Android operating systems.
BARCODE COMPATIBLE:
The program has the feature to have 1D / 2D barcodes on generated drawings.
1D / 2D barcode representing the spool can be automatically printed on drawing or generated separately from the barcode printer. The system has an inbuilt BARCODE printing language compatible with a ZEBRA printer. The barcodes can be scanned directly by a barcode scanner for tracking/status monitoring of work progress.
SPOOL FABRICATION & LOCATION TRACKING (GPS, barcodes & scanning) :
Spool and Joint level tracking of fabrication location(fabrication station no., bay no., shop no. for each fabrication activity like fit-up, welding, NDT etc.) weather condition, date & time can be automated. The spool storage location tracking after fabrication completion from lay down to dispatch can be monitored efficiently.
SPOOL TRANSPORT OPTIMIZER:
Optimum utilization of container/pallet space for spool transportation can be achieved by analyzing container/pallet free volume(M³) & maximum capacity(MT) with respect to spool dimensions/weight is performed through SPOOL TRANSPORT OPTIMISER. With the integration of AUTOSPOOL, the software generates 3D graphics of spools which can be interactively aligned in the container for optimizing the space utilization for transportation.
The system generates the following outputs:-
Packing list for each container/pallet (List of spools to be accommodated in a container/pallet (with Pallet no. reference) for transportation).
The sequence of spools and its arrangement to be loaded in the container/pallet.
Alignment of spools & position/location of spool w.r.t to container reference coordinates, to be loaded in the container/pallet.
Graphical representation of spool loading sequence, spool alignment & spool location in container/pallet with drawing output.
Individual weight of spools & Total weight loaded in the container pallet.
PROGRESS PLANNED V/S ACTUAL:
One can create a schedule for planned activities and track the actual execution of the activities. The software generates an 'S' curve for monitoring & analyzing project progress. Planned, actual, forecast of construction progress and the variance in the schedule can be effectively monitored.
PIPING CUTTING OPTIMISATION:
The software can perform the most efficient way of pipe cutting based on the required cutting length and the pipe material available in the store. This way one can minimize the length of pipe wastage and effectively utilize the material. All cutting reports are generated and the data can be sent to the pipe cutting machine by additional customization.
CONSUMABLE ESTIMATE & MANPOWER ESTIMATE :
The program can generate the consumables required like O2, DA, Grinding wheel, Cut off the wheel, Argon Welding, Purging gas, Root / Final filler wire type and quantity. Root / final electrodes type and quantity. etc. The program can generate manpower planning for the work to be done in fabrication and erection based on the input available.
The system performs internal volume calculation for calculating water requirement of hydro test (or) volume required for purging. Internal surface area calculation for calculating requirement of pickling & passivation (or) chemical cleaning.
PMC Approval:
The Project Management consultant or the clients representative can approve online billing based on SOR along with all the signed documentation for all reports against Schedule of rates.
Documentation :
All the documents for the billing or dossier purpose can be managed in this module. The documents generated by the system / Signed document are maintained and will be reproduced as and when required at the time of billing or line wise / loop-wise / system-wise dossier.